Learning to use the Instant Pot can feel like an overwhelming task. I didn't know where to start when I first took my Instant Pot out of the box.  I am so glad I gave it a try because it has completely changed the way I cook! Don't let yours get tucked away in a closet somewhere to collect dust! I've put together a list of some simple and healthy recipes to get you used to using your new kitchen appliance. Once you feel confident with your new Instant Pot, you may want to buy some accessories to create easy and delicious recipes. The Instant Pot comes in several different sizes and there are awesome accessories for every size!
Click here for 5,6 and 8 qt accessories
Click here for 3 qt accessories
Are you looking for an Instant Pot cookbook? Click here to see The Best Instant Pot Cookbooks.  A few online resources you may find helpful in addition to these cookbooks are Pinterest (follow our Instant Pot Recipes board) and the new Instant Pot Recipe App you can download on your phone. You can also join the Official Instant Pot Facebook Group to get recipes, tips and tricks from other Instant Pot users!
Read below for ten easy and healthy recipes to get you off to a great start!
Sweet Potatoes
This recipe for Instant Pot Sweet Potatoes  is so simple! It is a fool-proof first recipe to try in your Instant Pot to get used to using all the new settings.
"Probably the biggest benefit of making sweet potatoes in the Instant Pot is speed. It takes about 25 minutes, give or take, to do what normally takes over an hour to do in the oven." – Marjorie at A Pinch of Healthy
Lemon Pepper Salmon
Cooking salmon in the Instant Pot results in a perfectly cooked fish with an amazing texture! You will find that it is so easy to make quick and healthy meals.
"After seasoning the salmon and throwing some herbs in the water, what ends up in the bottom of the pot is a fully flavored delicate broth that's perfect to spoon over the salmon and veggies. Especially if you stir in a little extra healthy fat after the salmon has cooked." –  Amy at Wholesomelicious
Whole Chicken
Chicken is a staple in our home and I cook a whole chicken almost every week.  My routine is to first cook the chicken and use it in a meal. A favorite around here is chicken with mashed potatoes and gravy. Then I remove all the leftover meat from the chicken and use the bones to make bone broth. The meat can then be used for lunches throughout the week or for another meal. I love to shred up the chicken and use the bone broth to make a delicious chicken soup. There are endless possibilities when it comes to utilizing a chicken!
Bone Broth
Before I started using the Instant Pot
, simmering bone broth on the stove top was a process that took 24 hours. Now using the Instant Pot, I can have nutritious bone broth ready to go in about three hours. It has definitely been a game changer in my kitchen! Anything that allows me to make healthy food in a shorter amount of time is a winner in my book. It's used as a base in all of my soups and is an irreplaceable addition in many recipes I make on a regular basis. I even drink a mug of broth once or twice a week because of it's amazing health benefits. You can find my recipe here.
Chicken and Rice Soup
Making this soup in the Instant Pot
 is a breeze. The key ingredients are shredded meat from a whole chicken and bone broth.  Nourishing bone broth creates an extra rich soup and the chicken is bursting with flavor from cooking with fresh herbs, onion, and garlic.  The rest of the soup comes together quickly once you have these two ingredients ready to go. You can find the recipe here.
Tomato Basil Soup
I LOVE how easy and nutritious this soup is! I make it using freshly picked garden tomatoes.  The soup can be made dairy-free by substituting coconut milk
 for the half and half. This recipe makes a generous amount of soup, so I freeze about half of it and save the rest in the refrigerator for an easy meal to grab during the week. This tomato soup recipe pairs really well with grilled cheese or any type of homemade bread. You can also add ground beef to the soup to make Beefy Tomato Soup! You can find the recipe here.
Hard-Boiled Eggs
Hard-Boiled Eggs are one of the easiest things you can make in the Instant Pot
. I was pleasantly surprised to find that the shell of the cooked egg basically slides right off! The eggs store well in the fridge for up to a week. Give it a try! You can find the recipe and other quick and healthy snack ideas here.
Oatmeal
"Pressure cooking oatmeal is convenient and hands-off.  The pressure will squeeze the creaminess right out of the cereal making a cozy and nutritious breakfast.  Here's my technique for the perfect  bowl of pressure cooked oatmeal. Cooking oatmeal in the pressure cooker is totally hands-off – no burning, no boil-overs and no stirring to worry about. " – Laura from Hip Cooking
Mashed Potatoes
"These Instant Pot Mashed Potatoes are the first side dish I have attempted in the pressure cooker and I'm sure I'll be trying more after this success! These are the mashed potatoes that dreams are made of! They are smooth, or a bit lumpy if you want them that way, creamy and dreamy! " – Julie from Julie's Eats and Treats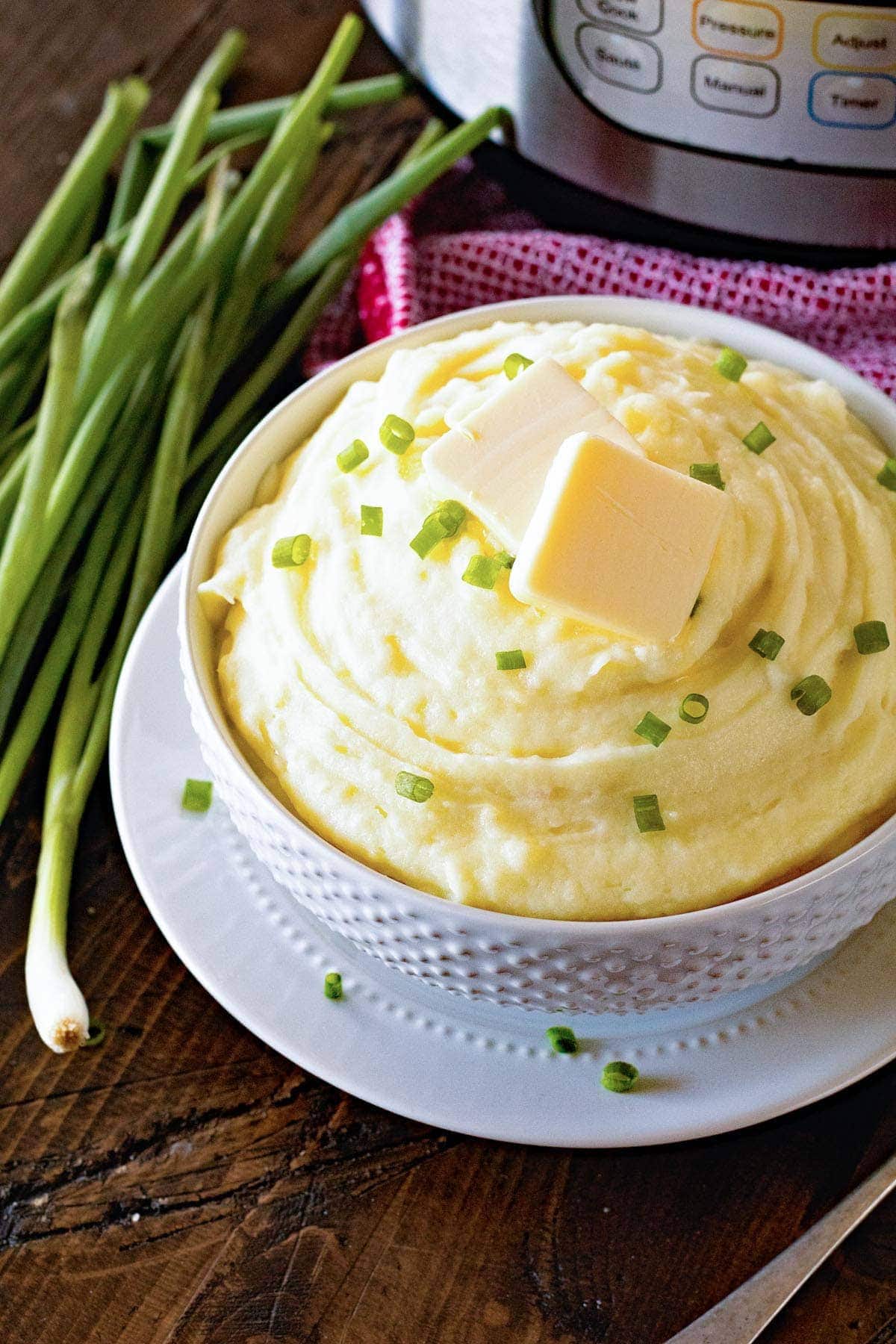 Mexican Black Beans and Rice
"Instant Pot Mexican Black Beans and Rice–the easiest and tastiest rice ever! Brown rice is cooked in flavorful salsa with garlic salt, a bay leaf and cumin. Canned black beans make this recipe very convenient. And my favorite part is a squeeze of lime juice and a dollop of sour cream on top. Make this as a meal or as a side dish." – Karen from 365 Days of Slow Cooking
What is your favorite beginner Instant Pot recipe? Drop it in the comments below!